Welcome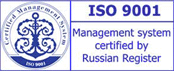 We are pleased to welcome you to our website, and thank you for your interest in our services: UMA is one of the leading Manning & Ships Repair Companies in Ukraine. The following pages will provide you with useful information about us, and our range of services.
Best Regards, UMA Co. Ltd.
E-mail for Application forms (CV) in WORD, EXCEL OR PDF formats:
[javascript protected email address]
For copies of your documents (passports, seaman's book, service record book, diplomas, certificates, etc.) please use www.ex.ua / on top - in the right corner "создать" - code of access (example: ключ доступа: 122554852691 или страница http://www.ex.ua/122554852691 please send to us by e-mail.